Our Services
What we offer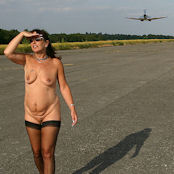 In a nutshell: contempory and stylish boudoir or glamour photography in your own home, on location, or in the studio.
We understand that a typical studio is not the most comfortable place for the style of images we specialise in, so we'll bring the studio to you - Your home, office, hotel room, or any location where you feel at ease. If you're up for it and the weather is favourable, we have portable lights and can shoot at any discreet outdoor location too!
That said, we have our own small studio space in our home in Pre en Pail and we are developing a 1600m2 permanent studio that should be opening later this year.
Shoot Prices
Most studios offering boudoir shoots offer a bewildering array of packages. Unlike those, we think a simple approach is better. You just pay for the shoot and then choose your products afterwards. The base fee is 100€00 for an individual or couple. Your shoot will include:
The shoot itself, up to four hours.

Professional retouching of all images

Viewing in your home and/or a private online gallery.
As well as the shoot, you can choose what products or services you want from the list below:
A professional hair/make-up artist - 100€

00

Web resolution photos on CD - 100€

00

High resolution photos on CD or data DVD - 200€

00
Other products such as photo-books, canvases, and wall-art prints etc. are also available, ask us for a quote.
Special Offer
A limited number of free content-share shoots are now available.
For a limited period, I am offering a free shoot on a "content- share" basis. This is where neither of us pay and we both get to use the images. This will be to update my portfolio to keep it fresh or because I have some ideas I'd like to try out. You still get some images from the shoot, and I will ensure that I only use images that you are comfortable with.
If you want to take advantage of a content share shoot then please contact me for details
Please note. Content share shoots are only available in our studio, your own home or chosen location.
Coming Soon
In partnership with our gîtes business, we will soon be offering residential photography courses in a number of skills. Aimed at all levels of ability from basic principles and "getting off of auto" to studio lighting techniques including time in our studio with a professional model.
Watch this space!